Lees over Beunka Adams in het Nederlands.
This webpage is dedicated to Beunka Adams and his fight to abolish cappital punishment. His fight for his own life.
Abolish the death penalty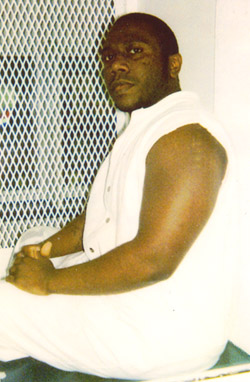 Wrongfully convicted man on Texas death row.
Beunka Adams is a 24 year old black man on death row. He was convicted and sentanced to death at age 21 for a murder that another man had already confessed and been sentanced to death for! He now fights for his life from his cell on the row. Legal and financial help is desperately needed. If you wish to help or learn more about Beunka contact him at the address below. Simple correspondance are welcomed as well.
Beunka Adams #999486
Polunsky Unit
3872 F.M. 350 South
Livingston, Texas 77351
USA
There are a few rules concerning mail Beunka is allowed to receive. You can read about them here.
Disclaimer: All of the above are Beunka's own words. The creator of this site is a friend of Beunka, but knows too little of his case to judge whether he is guilty or innocent. Nevertheless the matter of guilt or innocence is not the issue here. Click here to read more about why this page was build for Beunka.